Oct. 12-13, 2023
Language: Japanese
Online / virtual
Nov. 7-8, 2023
Language: Japanese
Face-to-face (Tokyo)
Dec. 14-15, 2023
Language: Japanese
Online / virtual

The Professional Scrum Master™ (PSM) training is a course that teaches the underlying principles, and theories of the Scrum framework and the role of the Scrum Master. It combines classroom lectures and team-based exercises to teach the core of Scrum and Agile.
Over the course of two days, you will learn effective mindsets, attitudes and techniques to become an effective Scrum Master and guide new product development teams (not just software) to improve their effectiveness.
Through the course, students are challenged to think in terms of Scrum principles, while at the same time gaining a better understanding of how to practice Scrum effectively in the field.
The PSM training is more than just a lecture. During this training, students work as a team with other classmates on real-life case studies and have case-based discussions.
The training also covers topics related to the Professional Scrum Master I (PSM I), Professional Scrum Master II (PSM II), and Professional Scrum Master III (PSM III) assessments, so that those interested in these certifications can increase their chances of success.
---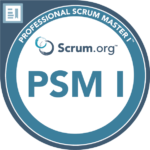 About the PSM I Scrum certification
Scrum.org's Professional Scrum Master I (PSM I) is a globally recognized, industry standard assessment.

★★ All students of this PSM class will be issued a password to take the PSM I assessment ★★

Once you receive your password, you must take the exam within 14 days. A passing score of 85% or higher is required. If you do not score 85% or higher, you will be allowed a second attempt at no additional cost.
Unlike other certifications, Scrum.org certifications do not expire.
---
Who should attend?
Scrum Masters
Team leaders
Product Owners
Managers
Developers
Areas of focus
Scrum Theory and First Principles
The Scrum framework
Getting to Done
Product delivery with Scrum
People and Teams
The Scrum Master's accountabilities
Your trainer
Gregory Fontaine is the founder of Agorax. He is the only Japanese-speaking Professional Scrum Trainer. Aside from being a trainer, Gregory has been supporting many organizations in a variety of industries as an Agile coach, consultant, and a Scrum Master.

---
Pricing
~220,000 jpy(tax included)per student
Time
Typically 9:00 – 17:00 for 2 consecutive days
Location
Virtual (Zoom) or onsite
Number of participants
Typically 20 per class
Language
Public classes in Japanese (no translation line) or English.
For Private classes, Japanese, English and French are possible.
---