Scrum was originally developed for complex software development projects, but is now being used on almost any type of team-based product work. The framework is a simple yet powerful way to bring order to complexity through learning by providing opportunities for frequent feedback on both how we work and the thing we have been and will be working on.
The Fundamentals of Scrum are:
Empirical process through evidence-based inspection and adaptation of how the work is done and what is being delivered.
Self-managed, empowered teams who are closest to the problems and the work to best make decisions.
Continuous improvement based on what is learned on an ongoing basis.
The Scrum framework is fairly simple and can be seen as a small set of three accountabilities, five events and three artifacts.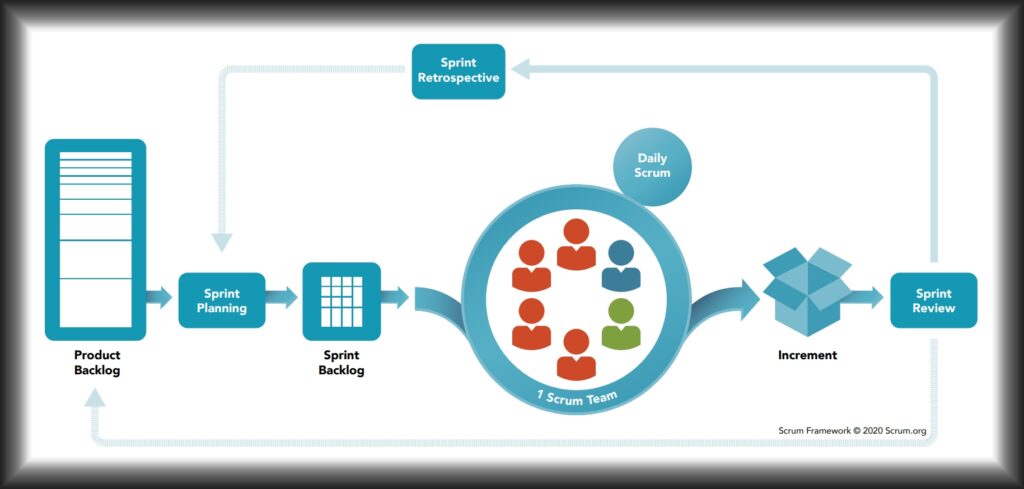 However, to be effective with Scrum, requires something more than just following the mechanics and fundamentals of the framework. This requires mindset techniques for ways of working and thinking, and an environment that supports it including trust. This is the essence of what Scrum.org calls "Professional Scrum". With Professional Scrum, Scrum Teams strive to do the right things for stakeholders by delivering value.
At Agorax, we strongly believe and are active advocates of this philosophy.
The 5 ingredients of Professional Scrum
---
① Scrum Values
---
・Courage to do the right thing and work through difficult problems
・Focus on delivering value to users, customers and stakeholders every Sprint
・Commitment to achieving the Sprint Goal, Product Goal and Definition of Done
・Respect each other's experiences, backgrounds and abilities
・Openness about all work and any challenges with performing that work
② Growth Mindset
---
Scrum Teams and their organizations need to embrace a growth mindset. That is, to believe that, through hard work, good strategies, and input from others "individuals can be developed".
This is important because complex problems require out-of-the-box thinking to apply different solutions and try new things, often doing things that have not been done before.
③ Outcome Oriented
---
Outcome oriented teams and individuals work on problems that, when solved, deliver value to customers and stakeholders and if value is not being delivered, they adapt and evolve.
Professional Scrum Teams strive to do the right things for stakeholders by delivering value.
④ Ongoing Learning and Development
---
Scrum is a team activity where the team requires all of the skills and experience to solve the problems it is assigned.
In order to support ongoing Learning and Development, members often create communities, participate in outside activities and keep an eye out for new knowledge.
⑤ Ethical Behavior
---
To be a professional means embracing a set of ethical standards. These standards unify and define the members for a given profession.
As Scrum is used in many industries and on various types of products globally, ethical standards depend on the work being done and are defined by the industry, team and organization.